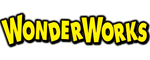 WonderWorks
in Panama City Beach, FL
9910 Front Beach Road
•
Panama City Beach
,
FL
32407
About WonderWorks
WonderWorks Panama City Beach began as a Top Secret research laboratory on a remote island in the Bermuda Triangle. As legend has it, the world's greatest scientists – led by Professor Wonder – were given the task of creating a man-made tornado and harnessing the POWER of it. During this experiment, something went awry and the power of the tornado was unleashed throughout the laboratory. This created a swirling vortex that was strong enough to rip the laboratory from its foundation. It was carried thousands of miles away and landed upside-down on the top of a surf shack in Panama City Beach, Florida. Remarkably, all of the experiments remained intact and functional.

When you enter the building, everything will be upside-down, so in order to participate in the fun, you must be inverted. Step inside the inversion tunnel and be turned right side up to begin your journey. Once you are properly aligned for your adventure, family fun awaits with more than 100 hands on exhibits. Make WonderWorks a stop on your Things to Do list when visiting Panama City Beach.
WonderWorks Frequently Asked Questions
What are WonderWorks operating hours?
WonderWorks is open Sunday-Thursday 10am to 7pm. Friday and Saturday is 10am to 9pm.
What will I find inside WonderWorks?
WonderWorks is an indoor interactive amusement park for the mind. Fun for All Ages! Experience over 100 interactive exhibits. Special features include the indoor ropes challenge course and lazer-tag.
How long does it take to tour the attraction?
Allow at least 3- 4 hours but spend as much time as you like.
Can I bring food into WonderWorks?
No, outside food and drinks are not permitted inside WonderWorks.
Can I take pictures?
You can take pictures inside. Great photo spots in WonderWorks Panama City Beach include: The Spacesuit, The Floating Circuit Head, Mercury Capsule, Hurricane Simulator, and more!
Where can I park?
Plenty of parking is provided on site and there is no charge.
What is the best way to dress for a day at the attraction? Is there any clothing that isn't permissible?
WonderWorks is a casual, family-oriented attraction. We suggest you dress comfortably. Closed shoes are required for our ropes course. No skirts or dresses permitted on the ropes course. Please dress family friendly.
Is the attraction wheelchair accessible?
WonderWorks is equipped with elevators for wheelchairs and strollers.
Can I exit the attraction and return later in the day?
Yes, tickets allow unlimited fun all day, come and go as you please.
Are there any height, weight or other requirements for any of the rides?
Wonder Coasters - Must be at least 48" ( 4′ ) or 42″ with an adult to participate. Combined weight of both riders cannot exceed 500 lbs. There cannot be more than 100 lbs difference between riders on a single simulator.
Ropes Course – Must be at least 42″ ( 3'6″ ) with an adult or 48″ ( 4′ ) to participate alone. Maximum height is 80″ ( 6'8" ). Closed shoes required. Maximum weight limit is 300 pounds.
360 Bikes - Closed shoes required and 52" ( 4'10″ ) tall to participate.
Does WonderWorks serve food?
Yes, at the Snack Shack. This café features fun foods like pizza, hot dogs, nachos, pretzels, popcorn and coke products.
You Save:
$0.00

Select Tickets
Select Tickets to continue.

View Full Schedule
You Save:
$0.00

You Save:
$0.00

General Admission
Includes WonderWorks Exhibits & 1 Ropes Course.

Rope Course Restrictions:
Closed shoes required (Loaner shoes available on site) for this experience No skirts or dresses permitted
Must be at least 42″ ( 3.6 ft. ) with an adult or 48″ ( 4 ft. ) to participate alone
Maximum height is 80″ ( 6'8" )
Maximum weight limit is 300lbs + you must safely fit in the harness.
Waivers required for 18 and over
Close